Picture of the Month - April 2012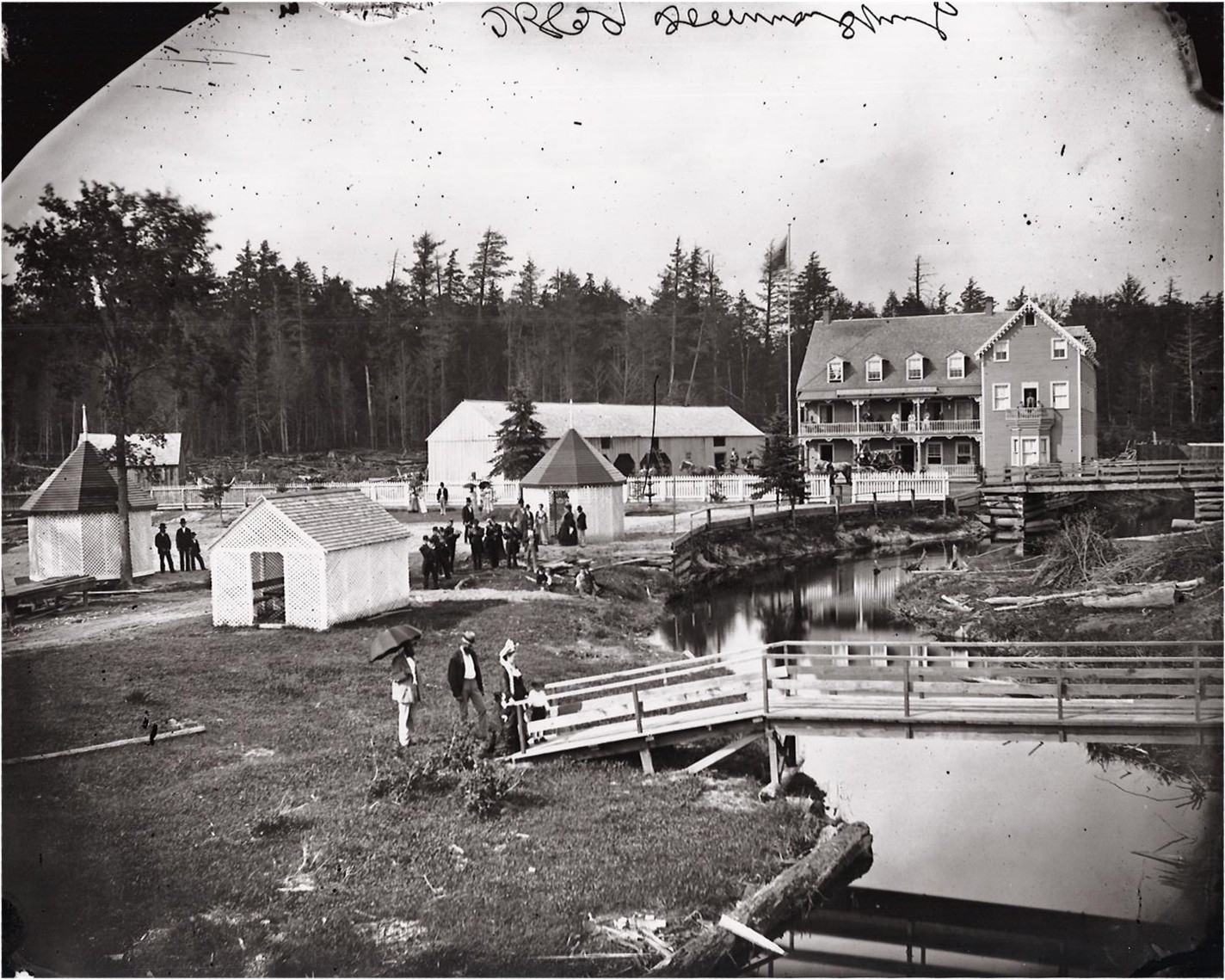 The Dominion House Hotel, the first hotel built at Carlsbad Springs
Photographed on July 1, 1876
In 1868 a group of seven business men from Ottawa formed joint stock company called the "Dominion Stock Compamy" .
They bought 40 acres of land including the "spring grounds" from Sam Eastman. They built a substantial hotel called the Dominion House. They had the mineral grounds improved, a pump house built, and kiosks were added over five of the Springs and a foot bridge was added from the spring grounds over the Bearbrook creek.
Also built was a small steeple chase course, which of course attracted the sporting crowd from Ottawa.
They operated a stage coach line out the Russell Road from Ottawa to the Springs during the summer months. At that time the only mode of travel was by horseback, stage coach or buggy etc. (The bridge in the background runs Russell Road over Bearbrook Creek)
The names of the men who started this venture were:
Mr. Chauncy Bangs a future Mayor of Ottawa, Mr. Bangs owned the first cottage at the "Springs".
Mr. Borbridge who owned a leather and harness shop in Ottawa.
Mr. Birkett of the "Birkett Hardware" store in Ottawa.
Mr. Henry Bate who owned a large wine business and later a grocery store.
(Mr. Bate would later become Sir Henry Bate.)
Mr. Thomas Birkett who owned the Birkett Hardware store.
And a Mr. Basset and a Mr. Barrett.
By coincidence all their names started with the letter "B".
The "Dominion House" operated quite successfully for a number of years until it was destroyed by fire.
The photograph also shows a metal fountain that could be set on fire at night because the amount of gas that was produced with the water at the site.
Unlike later hotels built at this location, this hotel did serve liquor.
It is rumoured that Sir John A. MacDonald stayed at this hotel.