The Gloucester Historical Society
Gloucester Remembers Its War Veterans


Billings Bridge - The most important entry point from Gloucester into Ottawa since 1830.
Here we see the current bridge on opening day, September 2, 1915
Photo by Binks & Wallis and supplied courtesy of Library and Archives Canada, Copy Number C-014138
The Story Behind the Picture
It is the day of the official opening of Billings Bridge, September 2, 1915. A large crowd has gathered including City engineer Askwith, Gloucester Reeve Caleb Hardy, his council and county officials, and Brad Billings, the so called 'King of Billings Bridge'. The bridge is brightly decorated with red, white and blue cheesecloth streamers and flags borrowed from the Exhibition association. The bridge is roped off at both ends and also decorated in preparation for an official ceremony. Cars are rounded up including the fire chief's car and the mayor's private vehicle. City controllers and councillors and newspapermen are assembled in the cars and they rush south from the city to the bridge. Without getting out of his car, Ottawa Mayor Nelson Porter cuts the rope and drives across the bridge with the other vehicles. After driving a short distance, they turn around and drive north across the bridge with the mayor briefly stopping. He insists that no speeches will be made and he quickly departs. What appears in the photo as a specially scripted event turned out to be totally underwhelming. [Ottawa Journal, September 3, 1915 p.14]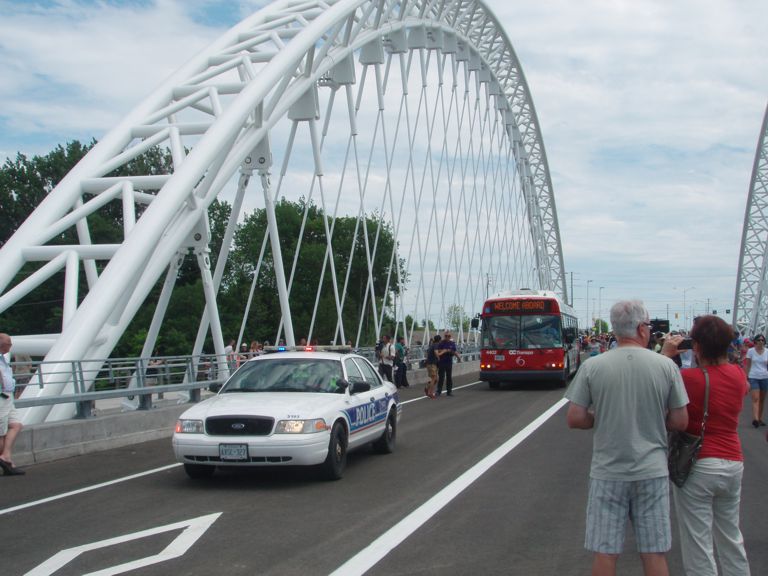 History in the Making - The official opening of the Strandherd-Armstrong Bridge - July 12, 2014. The new Rideau River link between Gloucester and Nepean.

Other Coming Events
Next Board of Directors Meeting - Saturday November 18, 2017 at 9:30 a.m., 4550B Bank Street, Gloucester (lower level, parking accessible off of Leitrim Road next to the Fire Hall). The meeting is open to the public.
-->
Township of Gloucester
County of Carleton
Ontario, Canada



Originally, all the land bordering the Ottawa River east of the Rideau River to the Cumberland Boundary and south to Osgoode Township, belonged to what was then, the Township of Gloucester. Parts of the township were annexed by the City of Ottawa over the years, or were incorporated as separate municipalities. Eastview (now known as Vanier) was incorporated in 1908 and Rockcliffe Park in 1925. Annexations began with New Edinburgh in 1887 and followed by a much larger annexation in 1950. The remainder of the township was incorporated as a city in 1981. The city was then amalgamated as part of the city of Ottawa in 2001.

The township is divided into four parts. First, the Junction Gore is bounded by the Ottawa River on the north, the Rideau River on the northwest, St. Laurent Blvd on the east and Walkley Road on the south. The Ottawa Front is bounded by the Ottawa River on the north, Osgoode Township on the south, Cumberland Township on the east and St. Laurent Blvd. and Ramsayville Road on the west. The Rideau Front is bounded by the Rideau River on the west, Walkley Road on the north, Ramsayville Road on the east and Osgoode Township (Mitch Owens Road) on the south. A small portion of the township along the Rideau River west of Spratt Road and covering from Honey Gables to Manotick is known as the Broken Front.

Within these boundary, small villages and distinct communities were founded. A list of Gloucester Place Names can be found here. For the purpose of this list, the Ottawa Front was divided into two. The north portion is bounded by the Mer Bleue, a natural dividing point, and the Walkley Road baseline.

A historic map of the township showing many old and modern place names can be found here .

A map showing modern community names can be found here .

Farms and market gardens flourished in the villages and communities in those early days. The township also originally included some of the Ottawa area's most expensive residential real estate in Rockcliffe Park.

Many stories are written about these past times. The Gloucester Historical Society's publications, along with other interesting research material and books on local history may be viewed at the Society's research room at 4550 Bank Street (off of Leitrim Road).
Announcements
Family Names for which information is available at the Grace Johnston History Room has now been added here: Click here. (November 18, 2017)
Watch David Mowat's Presentation on the Woodburn and Ogilvie families involvement in the Klondike gold rush at the 2016 GHS Annual Meeting. Click here for the video. (June 18, 2016) The GHS wishes to thank Wasim Baobaid for filming, editing and posting this video on the Internet for public access.
Learn about Tom Cruise's three year residence in Beacon Hill. Click here for the full story. (July 7, 2015)
Links Page fully updated to fix broken links. (May 23, 2015)
Publications may now be purchased by credit card through Paypal. (March 21, 2015) Click Here to Order
Gloucester Fire Chief and Township Clerk List Added (February 20, 2015) Click Here to View
Gloucester Police Chief List Added (February 16, 2015) Click Here to View
Gloucester Roots Index Added (February 14, 2014) Click Here to View
Newsletter Index Added (January 29, 2014) Click Here to View
Carleton County Wardens from Gloucester Added (October 17, 2013) Click Here to View
Gloucester History Page Improved - (February 13, 2011) A lot of information has been recorded in the Gloucester historic time-line over the last 5 years but as the time-line has grown more comprehensive, it has also become more difficult to find specific facts and stories. To make it easier, a comprehensive index has been added and navigation links will facilitate moving around the page. Click here to see the latest history page and index.
Google Discussion Group - The Gloucester Historical Society now has a Google Group so that Gloucester History and Genealogy can be discussed publicly. This is great opportunity to share information and make inquiries. To join the discussion:

If you would like an e-mail subscription to the Gloucester Historical Society discussion, you can do so here:
Subscribe to the Gloucester Historical Society Discussion Group
Visit this group
Gloucester Place Names Project - Perhaps, one of the most important research projects in the Society's history. The Society is attempting to identify and assemble all place names, past or present, within the original territory of Gloucester Township and provide some information on each.. This will be an evolving project which will lead to the publication of a book. In the meantime, our research will be appearing on this website. You are welcome to review our Place Names page.
Honey Gables - The Gloucester Historical Society is pleased to announce that we are collaborating with a community researcher with the end goal of producing a detailed written history of Honey Gables authored by the community researcher.
Volunteers - If you are interested in history, there are opportunities to learn more about your community by helping out in the history room. Please contact us for details.
Donations - The Gloucester Historical Society always welcomes donations that preserve Gloucester History. We will accept family histories, community histories, organization histories, church histories, school histories, photographs, historic documents and artifacts. Items of historic significance will be preserved in an appropriate local museum or local archives. If you would like to donate something, please contact us.
GHS Newsletters Now On-Line - Click here to view almost every Newsletter published by the Gloucester Historical Society since 1993.
New Publications
New Publication (October 17, 2015) - Railways of Gloucester - and Beyond! is a 72 page book written by Leslie Goodwin and edited by Joan Scott. This is a follow-up of Leslie's excellent presentation at the 2015 Annual Meeting. The book covers all the railways that once crossed Gloucester Township and includes dozens of photos, many in colour and many that have never been published before. An excellent resource for those interested in local railway history. The price is just $20.00.
New Publication (June 28, 2014) - 40 Years of Top Generation Club: 1974-2014 is an 80-page book produced for the June 2014 anniversary of the seniors' club that was responsible for restoring the one-room Ramsayville School, built in 1894. The school, originally known as Gloucester School Section #13, was abandoned and left at the mercy of vandals in the early 1970s when a group of local seniors saw the potential for putting it to use as their clubhouse. Forty years later it is a designated heritage building in excellent condition that is used regularly by the Top Generation Club and other groups. The book, edited by Laurel Sherrer, features a history of the club and of the schoolhouse written by club member Belma (Alexander) Hull, as well as individual recollections of several long-time club members and others associated with the early days of the club.
New Publication (April 21, 2013) - Gloucester A to Z by Robert Serré
This 60 page book covers a wide range of topics in the history of Gloucester from Arenas to Women's Institutes. Click here for more details.
New Publication (April 20, 2013) - The Emergency Shelters at Finter (Rockcliffe) and Uplands 1946 - 1954 by Glenn Clark
The first of new series, this 24 page booklet explains the history of the post war Emergency Shelters at Uplands and Rockcliffe that helped address Ottawa's housing shortage at the time. The Rockcliffe Shelter was officially named Finter and was Gloucester's most short lived communities. At its peak, it had 1,700 residents. Its demise was highly controversial. Read why.
New Publication (February 7, 2013) - Who was Who in Ottawa 1855 - 1967 by Robert Serré, 2013
Bytown was renamed Ottawa on January 1, 1855. This book provides 345 biographical profiles of well known residents up to our Centennial year. For further information, click here.
Did you know?

1. The Rideau River was originally the boundary between Gloucester and Nepean Townships as far north as Rideau Falls.

2. The north half of Long Island at Manotick was once part of Gloucester.

3. Hog's Back Falls bordered on Gloucester.

4. Rideau Hall and the 24 Sussex Drive (the Prime Minister's residence) were once in Gloucester

5. The Village of Rockcliffe Park was once part of Gloucester.

6. The City of Vanier was once part of Gloucester.

7. The jumble of roads, ramps and bridges next to RCMP Headquarters on the Vanier Parkway was once the thriving village of Hurdman's Bridge.

8. Greenboro Transitway station is adjacent to the former village of Ellwood.

9. Billings Bridge was once the centre of Gloucester Township including the first bridge to Bytown, a post office, 2 schools, 3 churches, the township hall, an Orange Hall, 3 ice houses, a brickyard, a toll gate and several other businesses.

10. The intersection of Russell and Walkley Roads was once the village of Hawthorne, traces of which have entirely disappeared.

11. Cummings Bridge once crossed via the island south of the current bridge. The island is named Cummings Island, named after the Cummings family who lived on the island for many years.

12. Ottawa's streetcars once travelled into Gloucester as far east as the north end of St. Laurent Boulvevard where the RCMP stables are now located.
13. The current Billings Bridge and Cummings Bridge were both originally designed for streetcars but neither would ever be used for that purpose.
14. Gloucester had two historic airports at Rockcliffe and Uplands, however, the first inter-city airmail flight into Ottawa used neither. That historic flight in 1913 made use of Slattery's Field, in Ottawa East.
15. Do you know which islands in the Rideau River originally belonged to Gloucester and Nepean? Porter's Island, Cummings Island and the north half of Long Island were part of Gloucester. Green Island and Nicholls Island (at Long Island Locks) were part of Nepean. The south half of Long Island was part of Osgoode Township.
Picture of the Month - December 2012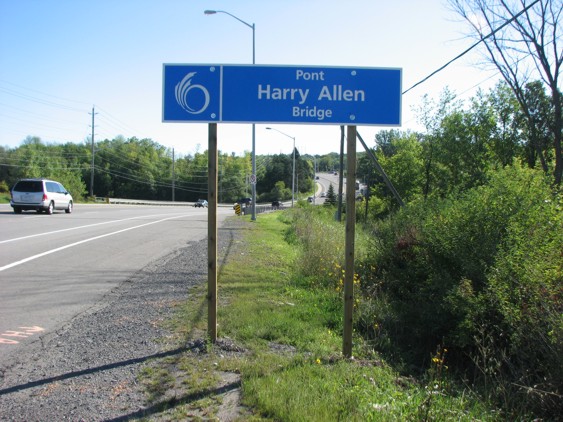 The Newly Named Harry Allen Bridge over Green's Creek on St. Joseph's Boulevard
Photograph courtesy of Roger Pyper
Harry Allen was a Gloucester Councillor from 1978 until 1985, at which time he was elected mayor. He took great courage to approve a 29.4% tax increase in 1989, which allowed the City of Gloucester to come out debt at a time of high interest rates. Because of this, he received death threats and had to wear a bullet proof vest during public consultations. He was voted out of office in 1991 but his successor was able to implement a tax freeze as a result of his courageous decision. The City of Gloucester entered amalgamation with Ottawa free of debt.
Before his political career, Mr. Allen was known for his community work in Beacon Hill. He got involved in community and township recreation committees that helped build the Earl Armstrong Arena and the Sawmill Creek Pool in Blossom Park as well as a number of parks. He also helped found the municipal Pineview Golf Course.
When in office, he developed a strong relationship with the National Capital Commision which enabled him to have the Rockcliffe Parkway realigned at St. Joseph Boulevard. He also widened St. Joseph Boulevard and the bridge that now bears his name and was involved with the extension of the Queensway in Orléans. Mr. Allen had a passion for public transit and worked with OC Transpo to develop a more efficient transit service in Gloucester.
Mr. Allen is a native of Ireland and immigrated to Canada in 1953 and came to Ottawa in 1968..
The bridge was officially named on August 24, 2012 and Mayor Jim Watson and Innes Ward Councillor Rainer Bloess recognized his many contributions to the community. Mr. Allen was joined by family and friends for the ceremonial unveiling of a commemorative plaque and the bridge sign.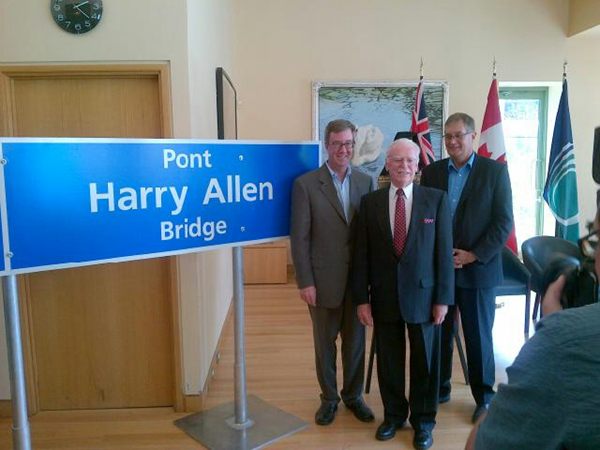 from left - Mayor Jim Watson, Harry Allen, Councillor Rainer Bloess
Courtesy of Jim Watson's Photo Lockerz
About the Logo:
For many years the Gloucester Historical Society used the wooden bicycle which had been made by 17 year old James Blair in 1898. The official logo as shown above was designed by R.N. Strong, Graphic Designer, who was commissioned to come up with a meaningful design.

The original bicycle is incorporated in the design and the colours of the Gloucester Historical Society, yellow and green are used. The green in the part below the word "Gloucester" represents a ploughed field, complete with furrows.
Last Updated November 18, 2017
The Gloucester Historical Society acknowledges the financial assistance of the City of Ottawa

Copyright © 2011-2017 Gloucester Historical Society. All Rights Reserved.